Things you can do now that Covid-19 restrictions are eased
Mask outdoors are now optional, hangout with 9 friends, quarantine-free travel, working in the office. What are you excited about?
Finally!
Recently, the Singapore government has just eased some Covid-19 restrictions and we're super excited to mingle with friends just like pre-Covid times!
As of 29th March, wearing masks outdoors is optional, we can go out in groups of 10 pax, alcohol can be served after 10.30pm and more. Do head over to this Straits Times article for more information.
So, here are some of the things you can do now that the restrictions have been eased:
It's picnic time
Back then, we could only unmask only if we're eating. And sadly during picnics, the Social Distancing Ambassadors (SDA) would remind you to wear your mask when they spot you not munching or drinking anything.
But as of now, you're free to unmask, chat, take lots of mask-free photos when you're having picnic outdoors!
To add to the fun, you can invite 9 (yup, NINE!) other friends with you. Forget about choosing which friends to leave out from this gathering. Well, if you actually have more than 9 friends to invite, I'm afraid you might need to wait a little more then.
Some of the spots you can go for your picnic are Botanic Gardens, East Coast Park, Sentosa Beach, Marina Barrage, Coney Island, Jurong Lake Gardens, Punggol Waterway Park and Fort Canning Park.
Besides having a nice picnic with friends, you can also have a trek with family members too. For a list of must-go hiking spots in Singapore, click here.
Also, please make sure you only unmask when you're outdoors or when you're eating. Here's a detailed infographic from Straits Times if you're confused!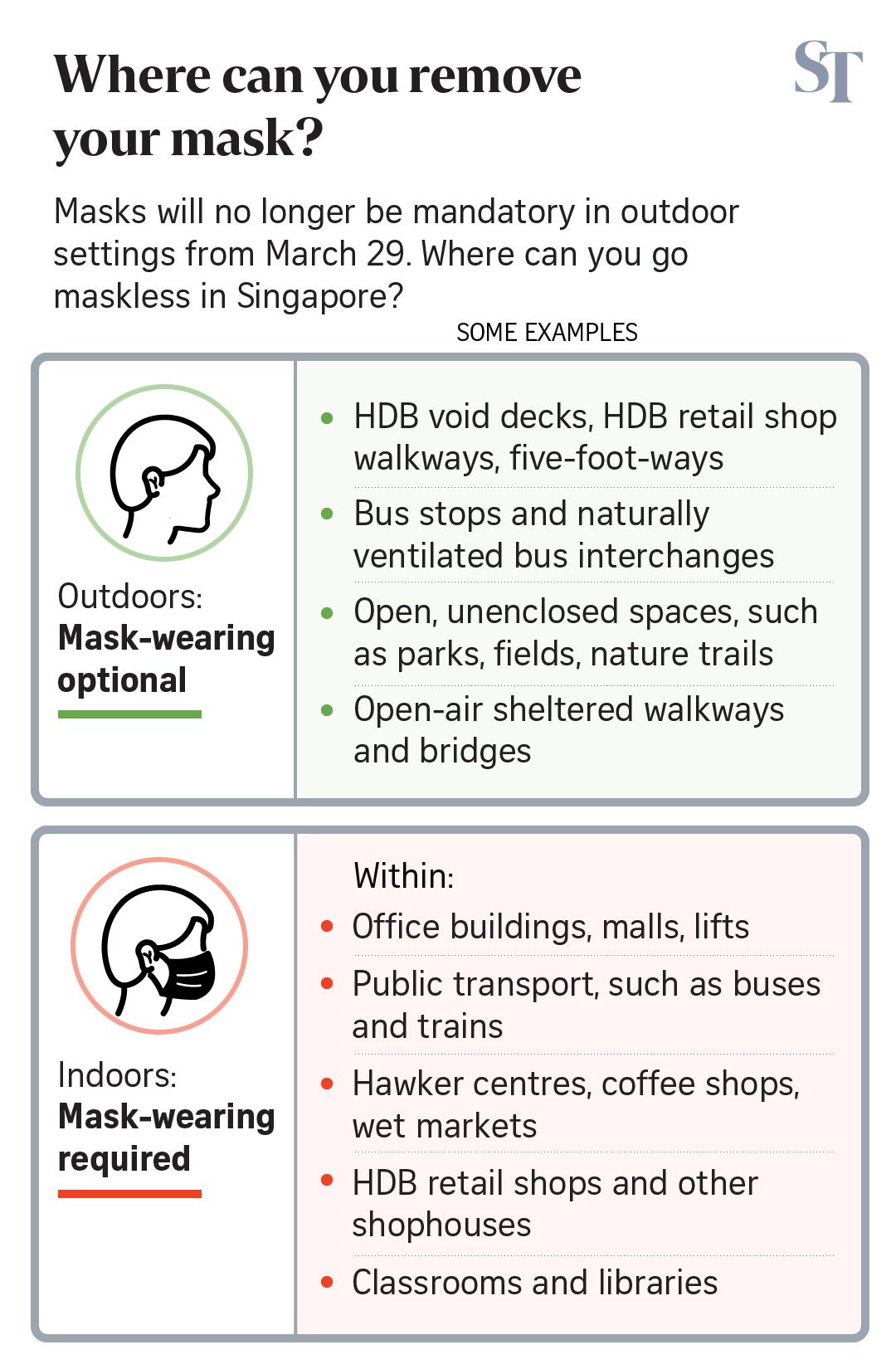 Drinks on me!
Another restriction that has been eased is the sale of alcohol past the 10.30 curfew mark. Many of us were really excited about this.
Not only can you order a glass (who am I kidding, make it 5) of beer after 10.30pm, you can drinks with 9 other friends! Don't we all miss that?
It's time to head down to your favourite bar, pub or restaurant and drink all you want. But of course, don't drink and drive yeah? Just book a cab once the party is over.
Just so you know,there's a new app that allows you to claim one free drink each day when you subscribe to their monthly plan. You can check the app, Alky, here!
If you don't already know, our partner, Hazel's Guestlist, is organising lots of social mixer all over Singapore. And exclusively for Coveys, you can get discount on some of the events!
Head over to the Cove app for more information. If you have not downloaded the app, do so here.
Home parties
Ah, at last. A home party with more than 5 guests.
Now, we can invite 10 other friends to a home party. This way, you can introduce more of your friends to your Cove flatmates and expand your social circle!
You can have BBQ nights, game nights, movie nights with more people. The more, the merrier they say!
If you're wondering what to watch during movie night, why not watch Marvel's latest Moon Knight on Disney+?
Quarantine-free travel
Yup, this is happening!
Starting April 1st, all vaccinated travellers coming into Singapore need not serve quarantine any longer. You also don't have to travel via VTL flights, yay.
You also don't have to take any Covid-19 tests when you arrive in Singapore, you'll just have to clear a Covid test 2 days before your departure.
For information on the travelling procedure of the countries you're flying into, do check with their respective's regulations.
While we're all so excited that these restrictions have been eased, do take care of yourself. Remember to wash your hands regularly, sanitise, take an ART if you're feeling unwell and self-isolate if you're tested positive.
For information on what to do if you're Covid positive, head over to this website.
Stay safe, everyone!
Follow Cove on Instagram for more lifestyle updates.