Yu Sheng etiquette you should know
Chinese Niu Year is approaching, here's what you need to know about this auspicious meal!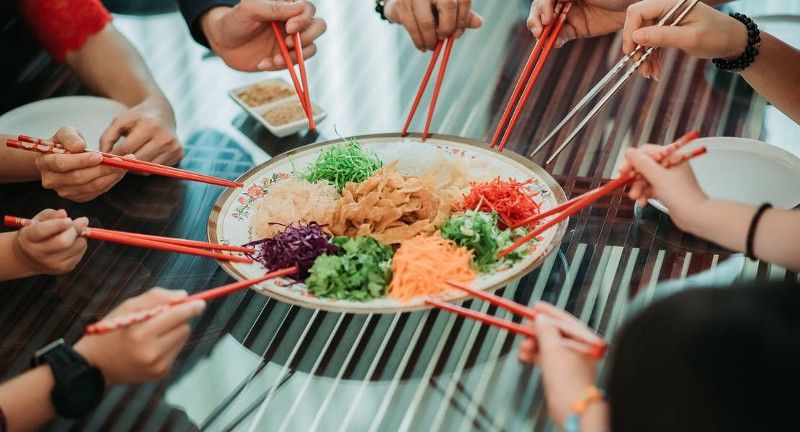 In a few days' time, we'll be ushering in the year of the Ox. For most of our Chinese friends, the annual reunion dinner is one of the most important meals to welcome the Lunar New Year.
If you're invited to a local Chinese New Year celebration or just keen to know more about this dish, continue reading this article to learn more about the custom and history of this auspicious dish!
Yu Sheng trivia you didn't know
The tradition of eating Yu Sheng is widely popular among Chinese only in Singapore and Malaysia. You would not be able to find this dish anywhere else in the world.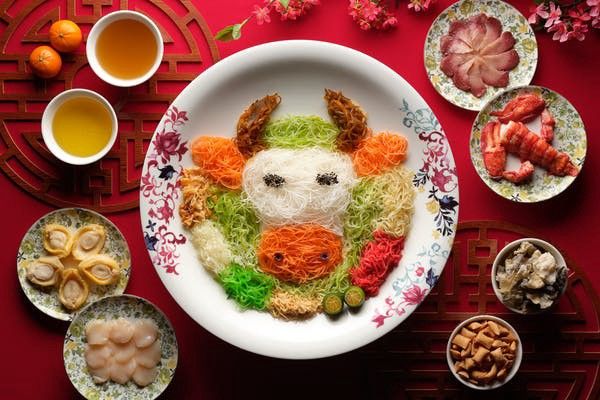 The name Yu Sheng directly translates to raw fish as the word sounds exactly like 余升, which means "increase in abundance"!
Don't be surprised if you hear people calling this dish lo hei. This is in reference to the ritual of tossing the yu sheng upwards before eating it. In Cantonese, lo hei means "tossing up good fortune"!
What does each ingredient mean?
Each ingredient is added in one by one before the joyous lo hei ceremony starts, and each ingredient represents a meaning and is not included by random.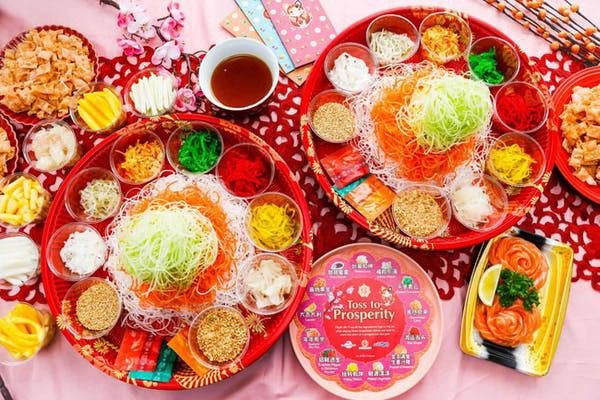 According to ladyironchef, here is the meaning behind each ingredient:
carrots — blessings of good luck
green radish — eternal youth
white radish — good job opportunities or business prospect in the coming year
raw fish — abundance and prosperity
Pomelo — luck
crushed peanuts — a sign that your home will be filled with many valuable possessions
sesame seeds — prosperity for your business
golden crackers — wealth
plum sauce — key component that binds the salad together, it represents stronger ties among family and friends.
pepper & cinnamon powder — signifies the wish for wealth
oil — often drizzled onto the salad in a circular motion, this is to symbolise that money will come from all directions
Huat to say?
Besides adding the ingredients step-by-step, it is also important to utter the right phrases during lo hei. So, huat are the phrases you must say?
When adding raw fish, say " nian nian you yu " which means abundance throughout the new year.
Say " da ji da li " when adding pomelo, lime or oranges. The word 'ji' sounds similar to luck in Mandarin.
While drizzling the oil, say " cai yuan guang jin " meaning may wealth flow in from everywhere.
Just like how sweet plum juice is, say " tian tian mi mi ", which means "may life be blissful and sweet".
Say " hong yun dang tou " when adding in shredded carrots. That phrase means "good luck will come to you".
When putting in green radish, say " qing chun chang zhu " meaning "may you have eternal youth".
Say " bian di huang jin " when adding the golden crackers, in hopes that your house will be filled with gold!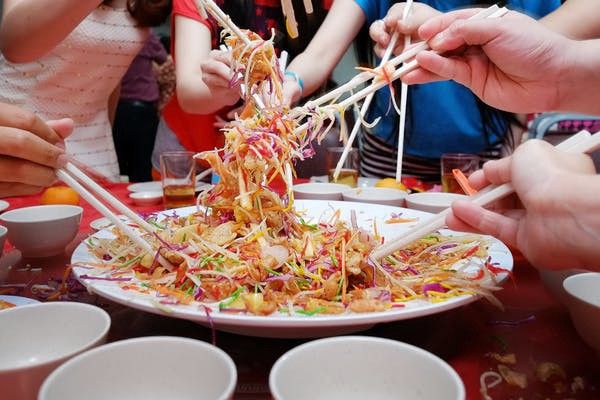 Remember to consult your Mandarin speaking friends before shouting these phrases out loud, you don't want to mispronounce it and accidentally say something wrong! 🤣 But, if you are doing lo hei in a restaurant, no shouting is allowed to prevent the spread of Covid-19 through droplets!
And don't forget to toss the Yu Sheng as high as you can. The higher the better!
Happy Chinese New Year! Gong Xi Fa Cai!