Why young Singaporeans are seeking to live on their own
How do your friends and family react when you told them that you're going to move out of your parents' home? Is it a good or bad response?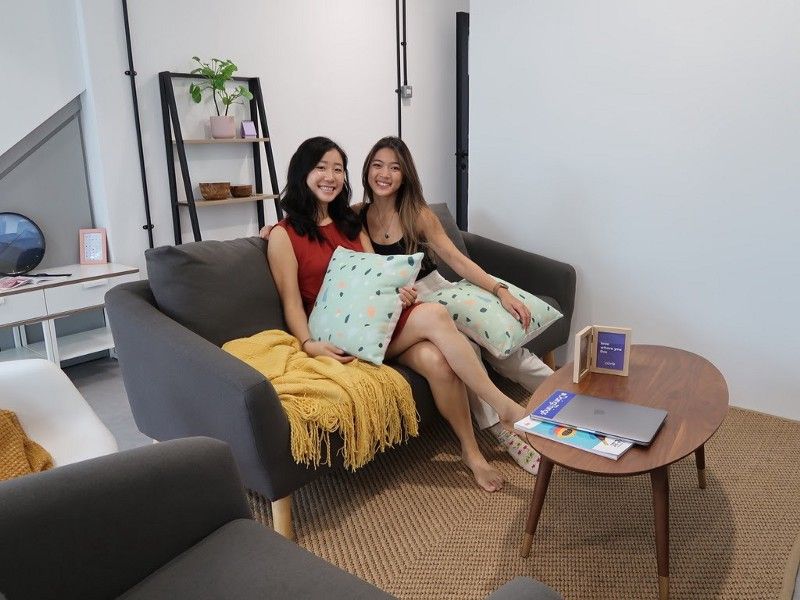 Emily, alternatively known as the Fang Girl on YouTube, chatted with her friend Corine on how Covid-19 has brought about new changes to housing trends in Singapore. While it was once expats looking for accessible, move-in ready housing, young Singaporeans in their 20s and 30s are now seeking to move out of their parents' homes and live on their own. In the search for personal space and independence, Corine shares why she left the nest. You can view the video below.
Emily (E): Corine, you've moved out on your own recently. How was that experience for you? And why did you decide to move out in the first place?
Corine (C): To some context, I moved out this year in July. It's only been a few months, but never have I once regretted it — it's something I've wanted to do for a really long time. In uni, you had your exchange program and I also did my internship overseas. Last year, I was also staying with my partner abroad.
When I came back last year, it was very hard to adjust to having to move back to my family, after having a certain sense of independence and freedom. That's when I started talking about house hunting with my friend, who was also thinking of moving out. This is just my personal experience; it might not apply to everyone, but I was staying with my dad and my two brothers, so I was the only female in the house.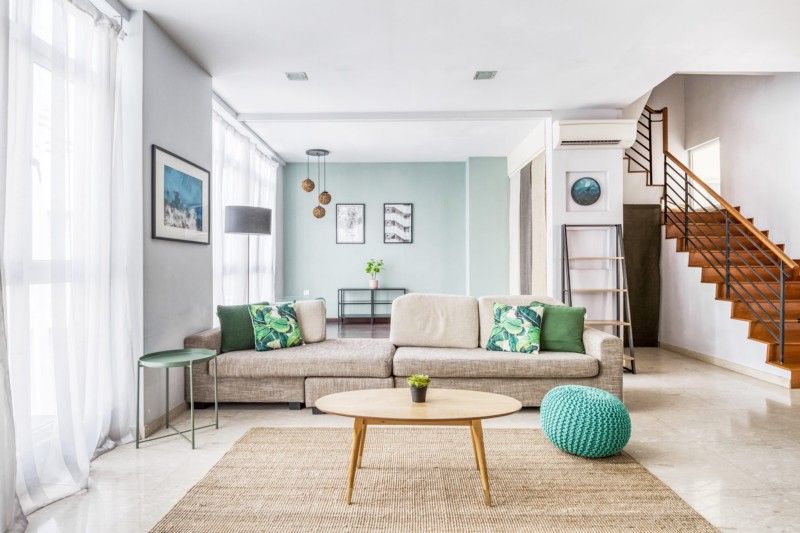 My room is the only place I can feel like a female cuz like their boy stuff would just be all over the living room. I needed a space to feel inspired. That was my main motivation to move out. Once I realized that I could afford it, I made the decision to move.
E: Did you get any negative reactions from family or friends?
C: I am quite lucky in the sense that my dad is pretty chill. He has never given me curfew restrictions and gave me responsibility to kind of live my life. So his mindset was that I'm old enough and I was paying for myself anyway. There were friends who also asked, "Oh, you're moving out? Isn't it super expensive? Why don't you save the money and like for your future renovation or for BTO, which is built-to-order government subsidized flats in Singapore."
And even when my friend and I were house hunting, there were property agents who would constantly ask, "Can I ask why you're moving out?"
It got to the point where my friend got annoyed and would say, "Why cannot Singaporeans move out? Why must I give a reason? Only foreigners can rent, is it?"
But in a sense, I do get the curiosity because for expats, like yourself, if you don't have a choice if you don't rent, you don't have a place. Whereas for us, it's kind of like a luxury. But at home, you are living a very sheltered life and your parents are very used to giving to you. So I think beyond a certain age, if you continue to stay with family, you're kind of trapped in a sense of being like a child forever.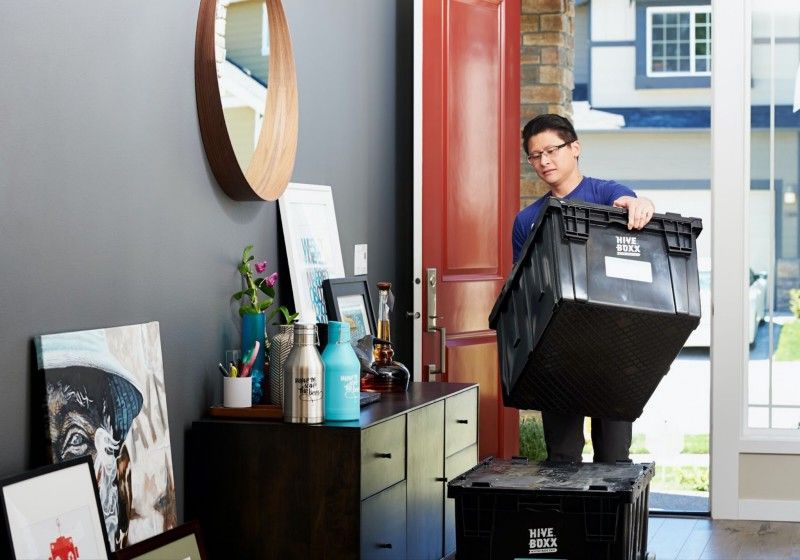 E: What are your thoughts on the filial piety factor? Should young Singaporeans be moving out?
C: Every family is different. I can't say for all the families. But right now and at my age, more and more friends are moving out. So I have a friend who moved out from home and now she's renting a place with her boyfriend. She was saying moving out made her relationship with her family even better. I was quite surprised to hear that. But maybe it's because you're so used to seeing them everyday, so you take them for granted. She said, "I feel like my parents are happier to see me and I'm happier to see them." And you have deeper conversations. And as cliche as it may sound, it does make the heart fonder and makes you appreciate the things that you don't have more.
So when you do go back and visit, I think it helps with the connection. You're not abandoning them, but you just have to let them understand this is for your own growth and independence. You can't let them coddle you forever. For some families, it will take time.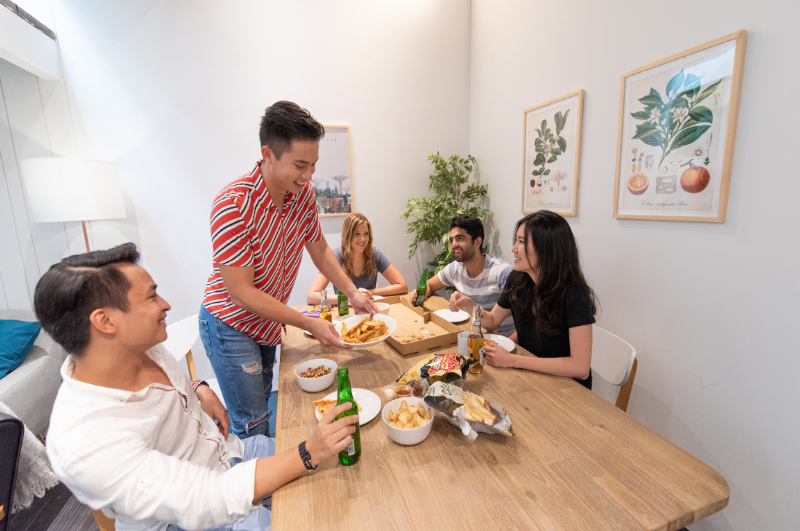 E: What are your own personal thoughts about coliving? Did you consider this when looking to move out?
C: Honestly, my house hunting process took quite a while. We did take our time to look — we were two females looking to rent a two bedroom apartment. We explored coliving spaces actually. I was very drawn to it because it already came nicely furnished. You don't have to worry about anything, such as setting up WiFi, aircon, and buying furniture. Personally, one of my requirements is to move into a place that is fully furnished. If it's just a one year experiment for me, I don't want to spend so much money buying furniture and then having to dispose or sell them.
I also liked the idea of meeting different people and trying to expand my social circle, but the reason why we didn't end up choosing coliving space is because ultimately, I had to balance expectations and preferences with my friend.
E: Do you have any advice for those looking to live on their own?
C: Definitely do your research and know what you want.
Understand what you want and what to look out for, like the closest MRT or what your housemate wants. When you go to viewings, you should check for wear and tear, ongoing construction, and visiting the place at different times of the day.
Then there's also negotiating, which I prefer to negotiate in person. Can you take the TV away? Can you cut the rent by $100 or 200? If I maybe sign a longer lease, can you bring it down even more? Also, read the clause thoroughly because they may add sneaky things, but luckily, I have my younger brother who is a property agent.
For those interested in checking out Cove, use the code 'CovexEmily' for $200 off your first month's rent! Visit here: https://bit.ly/3c9JTM1
For more lifestyle updates, follow Cove on Facebook, Instagram and TikTok!