5 most affordable rooms for rent at Cove Singapore
Hunting for a home to rent in Singapore can be quite a challenge! Here we have 5 pocket-friendly rooms for you to choose from.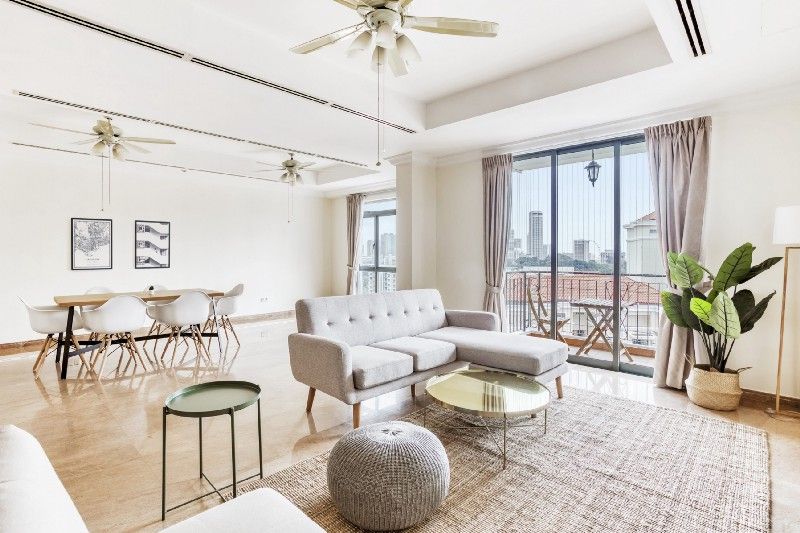 When finding a place to call home, there are a few things that come to our mind. Location, amenities in the neighbourhood, accessibility to public transportation and many others. But, the deciding factor that makes or breaks the deal is of course… the price tag!
Some of you might have come across Cove's property before and probably cross us out from your list of potential homes due to the price that you see on our listing page. But what if I tell you that we have homes that will cater to your budget, starting as low as $750 per month?
"Yeah, $750 and doesn't include the other features or perks like the other tenants are enjoying!" you might assume?
While Cove Basics monthly provides a more affordable home for rent, you'll still get to enjoy the benefits that any other Coveys get! Wifi, aircon, regular housekeeping, maintenance support, monthly Cove community events, monthly giveaway on our Instagram and many more!
Don't worry, you'll certainly enjoy the full privilege of being a Covey, and you'll love it!
So here are the 5 most affordable rooms for rent at Cove that you can find:
· Jalan Ayer
· River Valley Road
· Eng Hoon Street
· Hock Mansions
· Aspen Heights
Jalan Ayer
Starting at $800 per month, these rooms at this walk-up apartment located in Jalan Ayer is a hot pick amongst Coveys!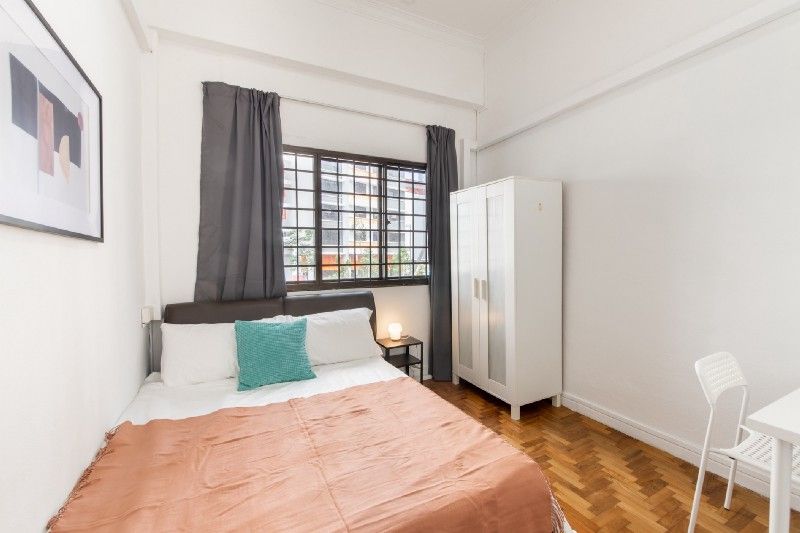 Only 3 minutes away from Kallang MRT station, this home rental is surrounded by multiple food shops! You know what they say, the East is indeed the best food haven in Singapore.
Not only that, a 15 minute walk will bring you to Singapore Sports Hub where many activities await you there. Be it swimming, rock climbing, running… they even have an onsen spa for you to relax and unwind!
River Valley Road
Living within the Orchard area seems like a dream, isn't it? Just minutes away from the shopping district and being located in the central of Singapore makes it so much more convenient for you to travel around the island.
What if I tell you Cove can make that dream of yours a reality? Well… not really in Orchard but an estimate of 10 minutes from Orchard.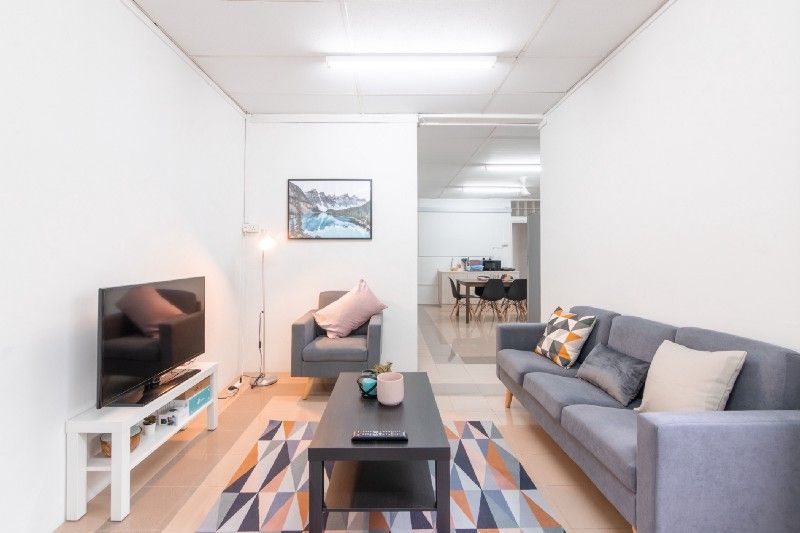 Starting at $750 per month, you're paying a very exclusive price to be staying in this walk-up apartment at River Valley!
And right opposite this walk-up apartment, you can find Valley Point where you can grocery shop at Little Farms or Fairprice Finest, you can even hang out at Starbucks or cafes like Pantler with your flatmates.
Talking about flatmates, there are 5–6 rooms in this apartment. So for extroverts, this is your time to make friends!
Lucky for you, we're having an Open House from 20th till 25th September at River Valley Road. You can come down and see for yourself how it's like living in a Cove apartment.
PS: The first 5 bookings will get an early bird discount of $200 off if you quote "earlybirdRV"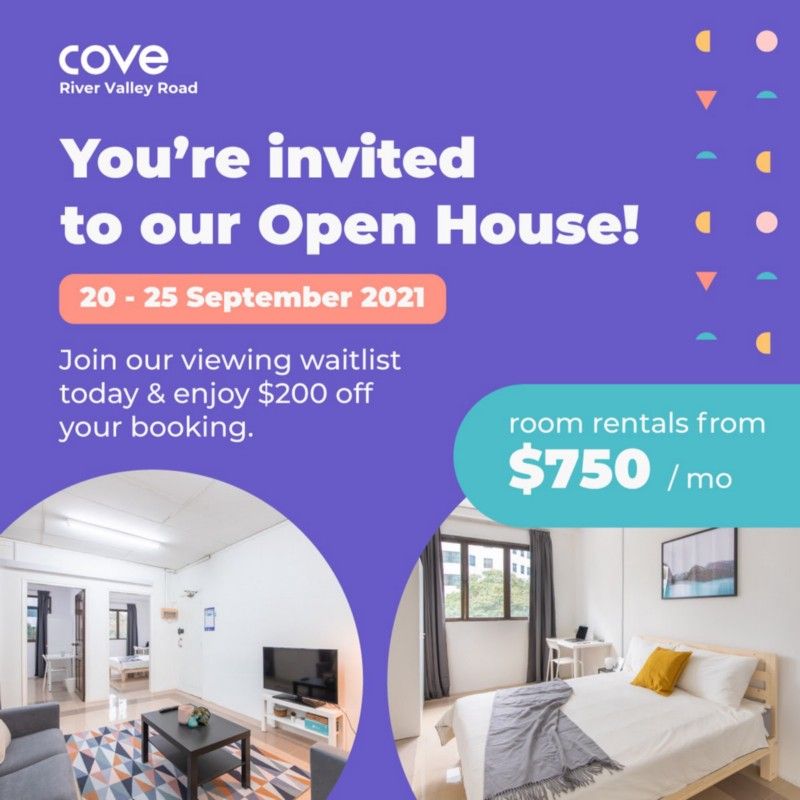 Drop us a WhatsApp message if you're interested to come to our Open House!
Eng Hoon Street
Another hot spot has got to be Tiong Bahru. It's especially popular amongst locals and expats who are looking for a place somewhere near town, yet not too near the hustle and bustle of the city area. And that is why Tiong Bahru is the go-to area!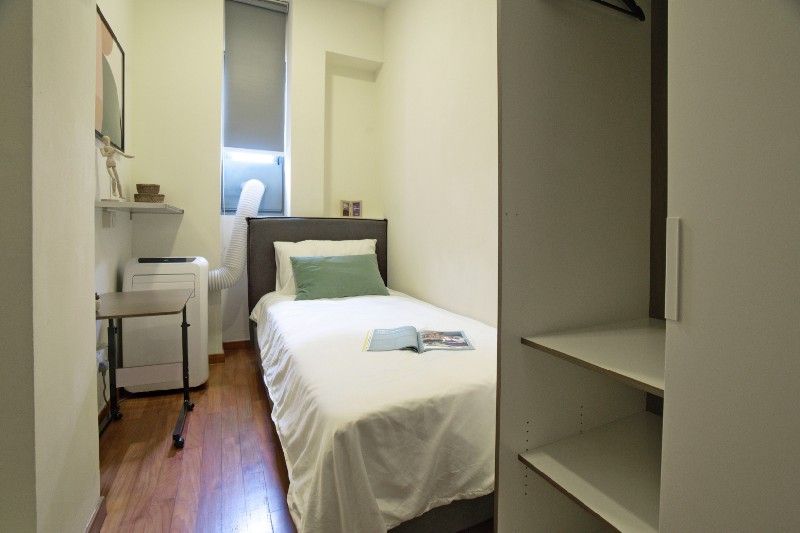 This room is inside a boutique shophouse located along Eng Hoon Street and it's going for only $800 per month! I honestly think it's such a great deal and you can also show off to your friends and family that you're living in a shophouse! All about that chic life.
On top of that, this home is in between Outram Park and Tiong Bahru MRT stations so you can easily travel around Singapore as you're connected to both the Green and Purple lines.
Click here to watch the home tour of this Tiong Bahru house for rent.
Hock Mansions
If living between 2 MRT stations doesn't make the cut, what about 3 MRT stations?
At Hock Mansions, you're only 5 minutes away from Dhoby Ghaut, Rochor and Bencoolen MRT stations. That means you are connected to the Blue, Yellow, Red and Purple lines. That's more than half of the MRT lines in Singapore!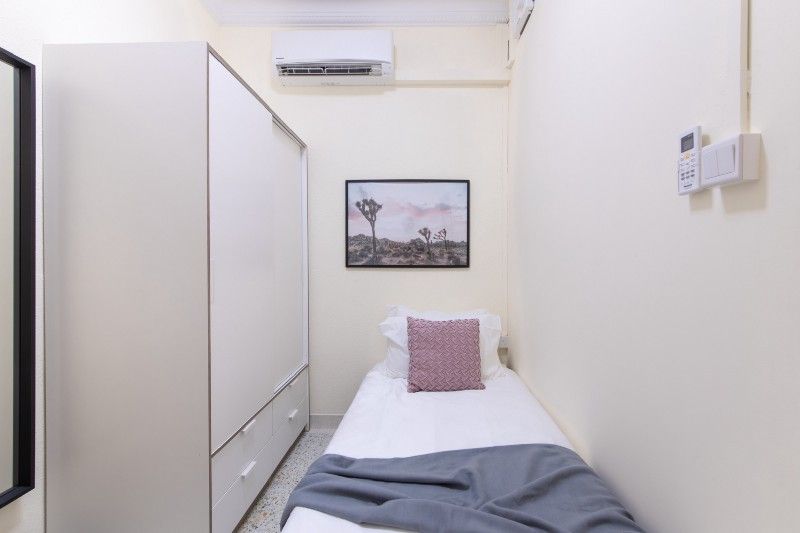 What's great about this condominium located at Mount Emily & Dhoby Ghaut area is the dining area which is located by the window. Imagine having a romantic dinner while gazing out at the stars!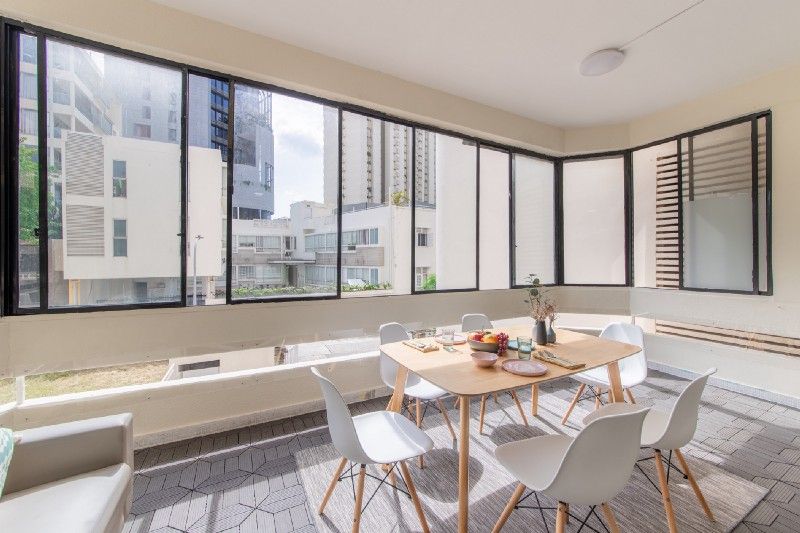 Aspen Heights
For $1,100 per month, enjoy living in this condo with a super single bed in your very own room. And for that monthly price, you can enjoy the large variety of facilities in this condo such as the pool, BBQ pit, gym, tennis court, clubhouse and many more. There's even a mini mart inside the condo vicinity so there's no need to run out of the condo if you need last minute snacks or drinks!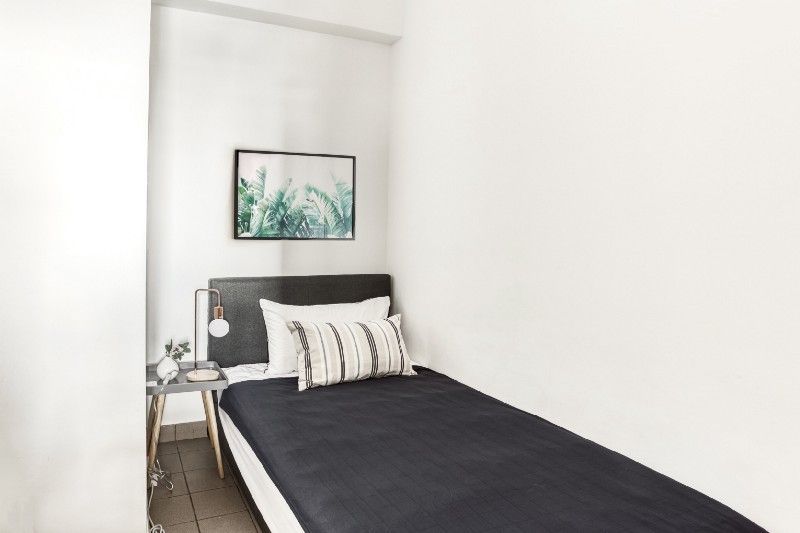 The unique thing about this condominium is that it's double-storey penthouse with a total of 6 bedrooms. The living room and dining area are connected, making this home feel super spacious. It also comes with a balcony overlooking the estate. Cool, right?
Who says home for rent in Singapore has to be costly? With the right research and time spent on looking for your ideal dream home, you can land yourself a comfortable room at a very competitive price! And if you're looking for a home for rent in Singapore without an agent fee, you can count on Cove.
So what are you waiting for? WhatsApp us at 3138 4860 to book a complimentary viewing with us. No obligations too.
Just let us know which location you prefer and don't be shy to let us know your budget so we can work around it. Like what Aaron from bookings team shared with us, it's easier if you share all your preferences early on, so we can help you find your ideal home within the shortest possible time :)
Follow us on Facebook, Instagram and TikTok to keep up with the newest home in town!