Underrated local delicacies you should try this 56th National Day
Tired of eating the normal chicken rice, carrot cake or laksa? Try these non-commonly heard Singapore dishes instead!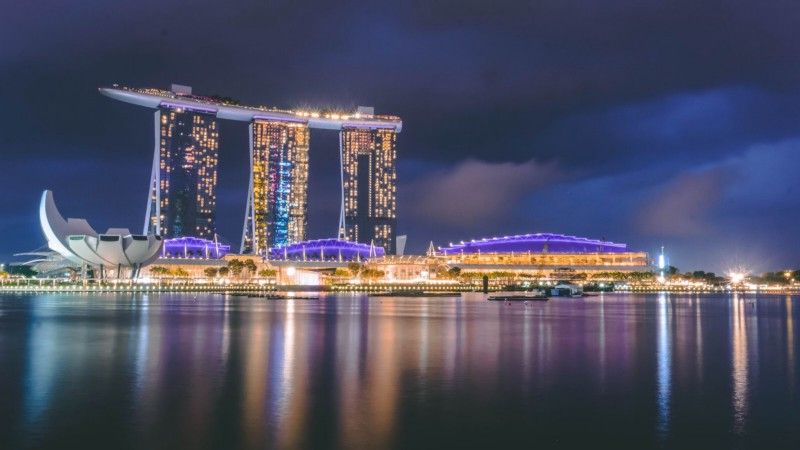 Singapore's 56th National Day is around the corner and just like yourself, I too was planning for my long weekend and thinking of where I can head to during the night of 9th of August to watch the fireworks.
Unfortunately, National Day Parade is postponed to August 21, after Phase 2 (Heightened Alert) restrictions.
But that doesn't mean we can't celebrate Singapore's birthday while being safe at home with our flatmates, friends and family. We can still enjoy 9 August as it is by playing our favourite National Day songs, watching local movies on Netflix or playing local card games such as The Singaporean Dream, Limpeh Says and more! 🃏
In light of National Day, here are some underrated local dishes that you should totally try out if you haven't! Forget your chilli crab, chicken rice or your famous Singapore noodles such as laksa, prawn mee or char kway teow, I'm here to introduce LOCAL local food.
Roti John
Think of french toast, but localised. Essentially, that's actually the origin of the dish! Back in the 60s, an English serviceman wanted a burger and Roti John was the closest alternative the local hawkers could make.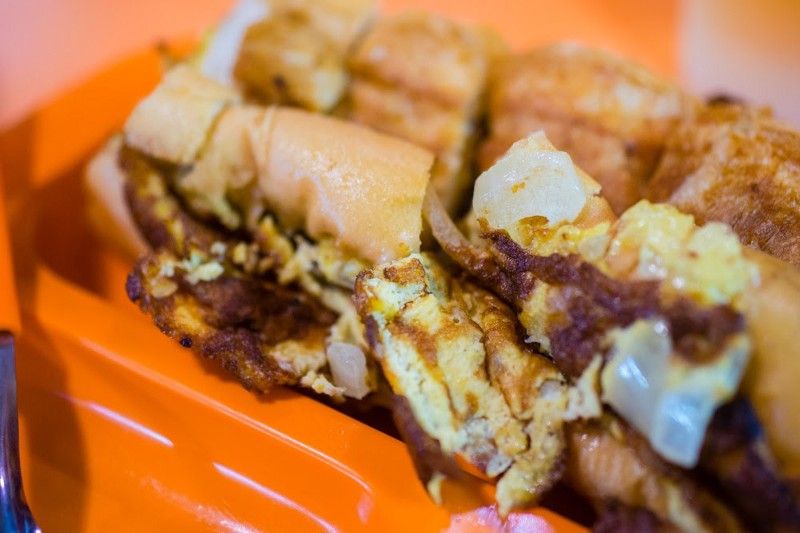 Today, Roti John is enjoyed by many locals with various modern versions of it. My favourite is still the original Roti John. A simple french bread cooked with egg, minced meat and diced onions, best eaten when dipped in chilli! I would totally recommend going all the way to Haig Road to get your hands on the best Roti John from Rosy & Nora.
Address: 14 Haig Rd, Singapore 430014
Tulang Merah Soup
Yes, the name translates to red bone soup and it is indeed very red but not to worry, it's not blood! Basically, this dish is made up of mutton or beef bones stewed in a sweet and spicy red soup of mutton stock, tomatoes, ginger, chillies and spices.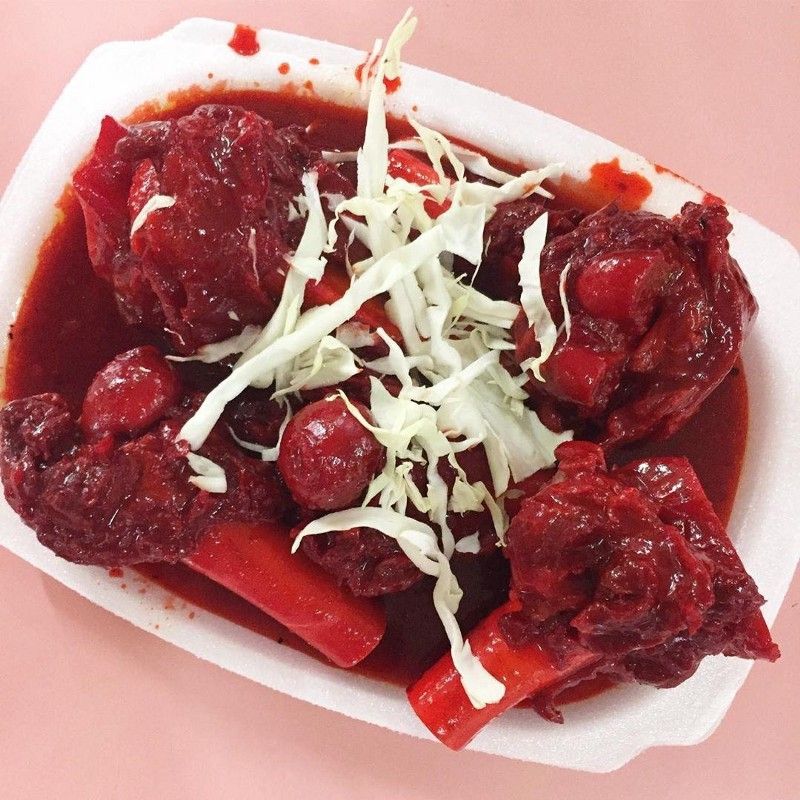 Eating this rich dish can be really messy as the main star of this dish is the bone marrow which you have to suck or get out by hitting it with your hand.
It can be troublesome but I promise you it's worth it. Head over to Haji Kadir Food Chains at Golden Mile Food Centre to get a taste of this iconic dish from the shop which claimed to invent this dish!
Address: B1–13/14/15 Golden Mile Food Centre, 505 Beach Road, 199583
Chwee Kueh
This dish may look very simple but it's actually very filling and I bet most Singaporeans grow up eating this!
What is it you ask? As you can see from the photo below, it's actually steamed rice cake, served with preserved radish and chilli sauce. The best combination you can ever have.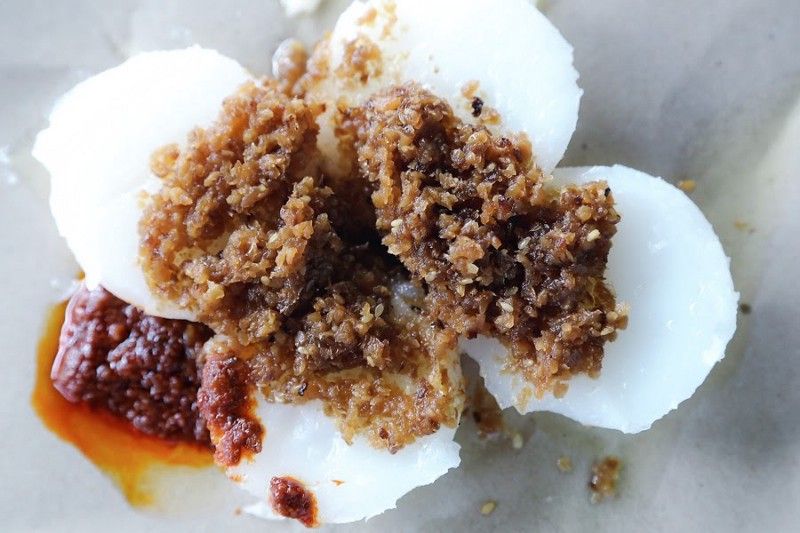 Like how the locals would say it, "don't play play hor", this dish is so good that Bedok Chwee Kueh stall has been awarded Michelin Bib Gourmand! Click on the link to find out the different outlets of Bedok Chwee Kueh!
Ayam Buah Keluak
Ayam Buah Keluak is one of the many staple dishes in the Peranakan culture. It is mainly made of chicken meat, braised in thick, spicy tamarind gravy with buah keluak (pangium nuts), normally served with rice.
If you're an adventurous person with acquired taste buds, you shouldn't give Ayam Buah Keluak a miss.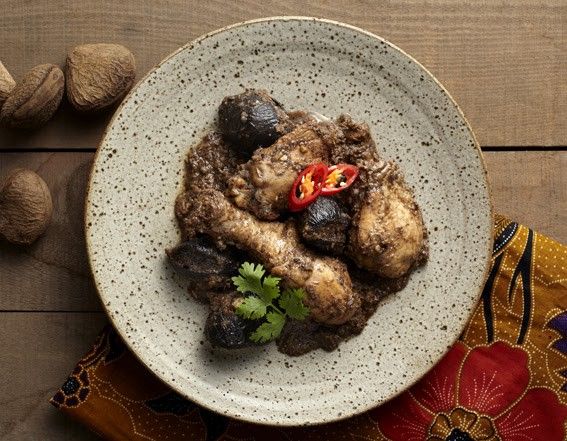 The buah keluak is often described as tasting like cacao, mushrooms and black olives. Some also refer to it as the Asian black truffle! So if you feel like eating something fancy, try this.
You can easily cook your own Ayam Buah Keluak by getting this instant mix here.
McSpicy
Disagree with me all you want but McSpicy is indeed one of Singapore's post-colonial iconic Singapore food items! This is every Singaporean's favourite go-to burger whenever they have supper over at McDonald's.
And yes, the diarrhoea that you get after eating this is part of the gastronomic adventure in Singapore! If you're not a fan of spicy food like myself, I suggest requesting for more veggies and mayo sauce on your McSpicy. Add a piece of cheese to neutralise the spiciness.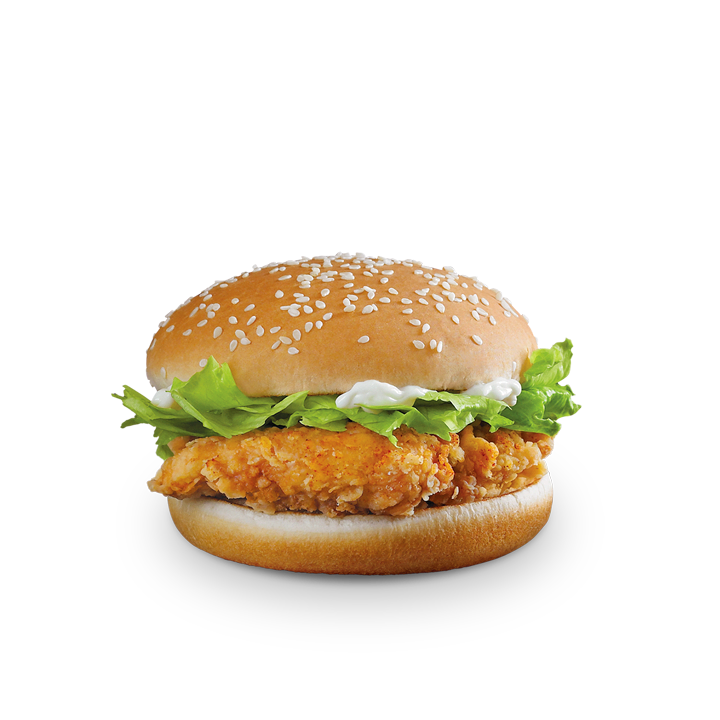 Trust me, you'll love it. Plus, you can't get McSpicy outside of Singapore so you should totally try it while you're here.
I hope that you'll be intrigued to try some of the dishes that I've shared with you in this article. Maybe you can get these dishes while you celebrate National Day Parade from your home?
Remember to stay safe and celebrate National Day responsibly!