Renting 101 — FAQs about Cove
Curious about renting a property in Singapore with the help of Cove? Here are all the FAQs & important answers you need to make a decision!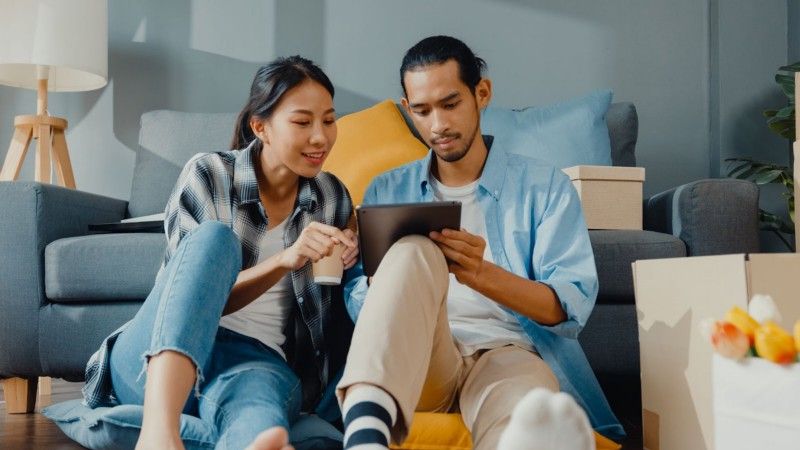 When it comes to finding a new place to live, it can be a journey full of uncertainty and doubt. After all, you could be moving to an entirely new neighbourhood with little familiarity around you. It could be worse if you are moving to a foreign country entirely, and that is something the team at Cove understands fully.
This is a problem we are seeking to solve with the Cove platform, and thus far, our users seemed to be very happy with the results. For those of you who are looking for a new place to call home, whether you are local or thinking of migrating to Singapore, here's all the important information you need to know about renting with Cove, and why you most definitely should!
Cove FAQ
Cove costs
What's included in the rent?
When you are renting with Cove, you can be sure your rent covers it all. From Wi-Fi, housekeeping, furnishings, appliances, a dedicated app, an expert maintenance team, to all the community events and Covey perks, every member of our community is going to be well taken care of!
How & when do I pay the monthly rent?
It is quite simple. Cove uses a digital payment system called Flywire, which helps reduce international bank transfer fees and make it straightforward when tracking your payment. An invoice will be issued on the 23rd of every month to cover the upcoming month's rent.
Once you have settled the payment before the first of the next month, you can live without any fuss or worry!
What are the upfront costs?
As part of your first invoice, a deposit that is refundable at the end of your tenancy is included. This will be equivalent to one month's rent. In addition, the invoice also includes your first month's rent (prorated to your move in date) and a one-off $100 administration fee covering your setup with Cove as well as the condo management whenever applicable.
Is there an agent fee?
Not at all! Cove is not operating as an agent, and you will not be charged any such fees. The only additional fee is the one-off $100 administration fee to cover the setup with both Cove and condo management whenever applicable.
Cove processes
What are the processes for booking a room?
After you have viewed your preferred accommodations, you will receive an email with a booking link. Complete the booking form, and we will get back to you shortly with an electronic tenancy agreement. Once you have signed, the room is officially booked.
How quickly can I move in?
Cove is all about efficiency, and you can look forward to moving in as quickly as within 3 days of booking. As our processes are all digital, all you need to do is sign the tenancy agreement, settle the security deposit, and you are on your way to becoming a Covey!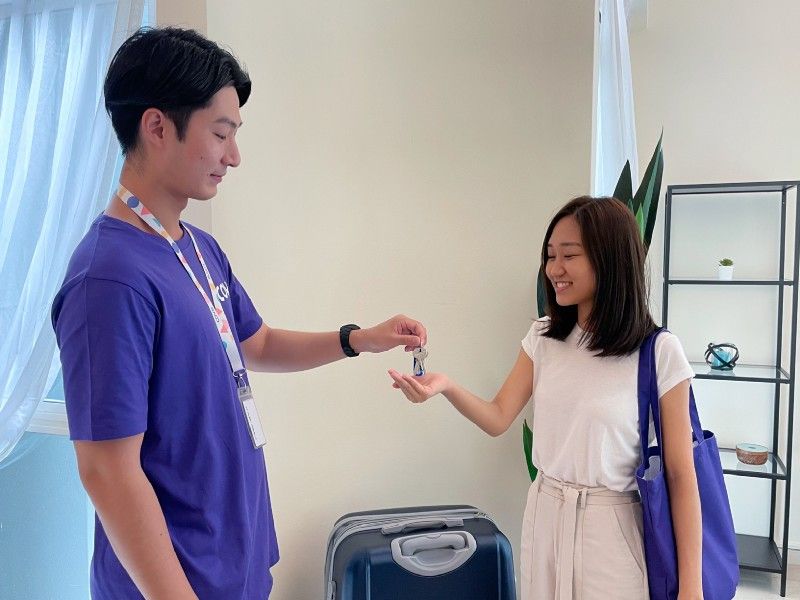 How do I check-in?
On the day of your arrival, a Cove representative will meet you at the location to assist with the moving in. We'll provide the keys, take note of the room's condition, show you around the building, and help answer any questions you may have.
Cove services
How often is housekeeping?
For all Cove Classics and Cove Luxe properties, you can look forward to weekly housekeeping. As for Cove Basics apartments, housekeeping will be done on a monthly basis.
What types of maintenance do you provide?
With a dedicated maintenance team to look after you, you can enjoy your stay at any Cove property with peace of mind. Our team will schedule repairs and servicing works based on the needs of Coveys, and you can find the most updated information here.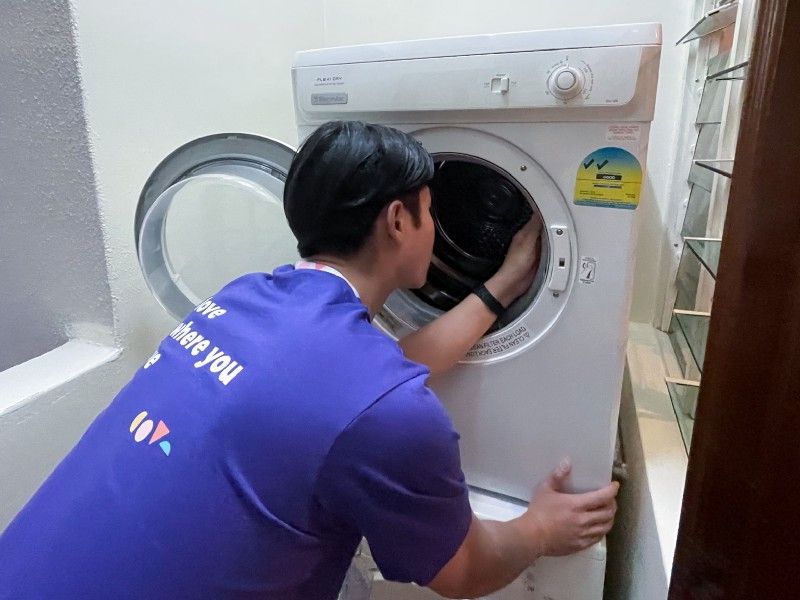 What items are provided when I move in?
Whenever you view a room or property, everything you see will be included when you make the move. All of the furniture and kitchenware are included, and bedrooms will be outfitted with mattresses, a mattress protector, two pillows with pillow protectors, and accessories like hangers, extension cords, and a laundry bag.
For the common area, you will have a well-equipped kitchen to cater to your culinary needs. Wi-Fi will also be provided to let you surf to your heart's content, and you can utilise our Chromecast to expand your entertainment options. Housekeeping will also be dropping by to help you tidy things up.
Convenience
What sort of furniture is provided?
When it comes to Cove living, there are a few staples. For the common areas, you will have a sofa, coffee table, a smart TV/TV equipped with Chromecast, dining tables and chairs. In the kitchen, you will find appliances such as an electric kettle, microwave, toaster, utensils, plates, cooking utensils, and more.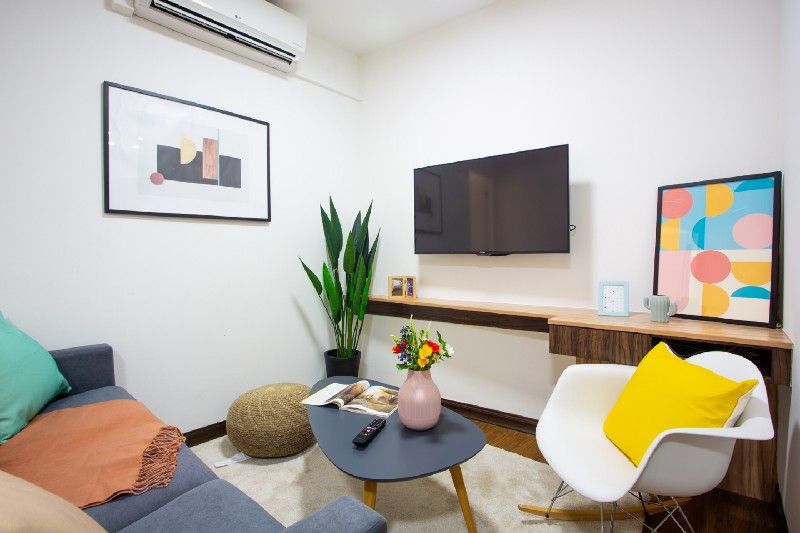 If you need to get laundry done, there will also be a washer. Dryers are found in selected properties as well. And for the bedroom, there will be beds and mattresses provided, complete with a bedside table, lamp, and wardrobe.
Can I transfer between Cove properties?
Indeed you can! If you wish to move to a different part of Singapore, or try out another place, we can easily transfer you between Cove properties once your fixed lease is up. Just let us know 30 days in advance and we will sort out the rest.
Conflict resolution
What if I don't get along with my flatmates?
You may find yourself living in shared spaces when renting with Cove, and there will be times where conflict may arise. For minor issues and disputes, Cove encourages all our Coveys to resolve things directly.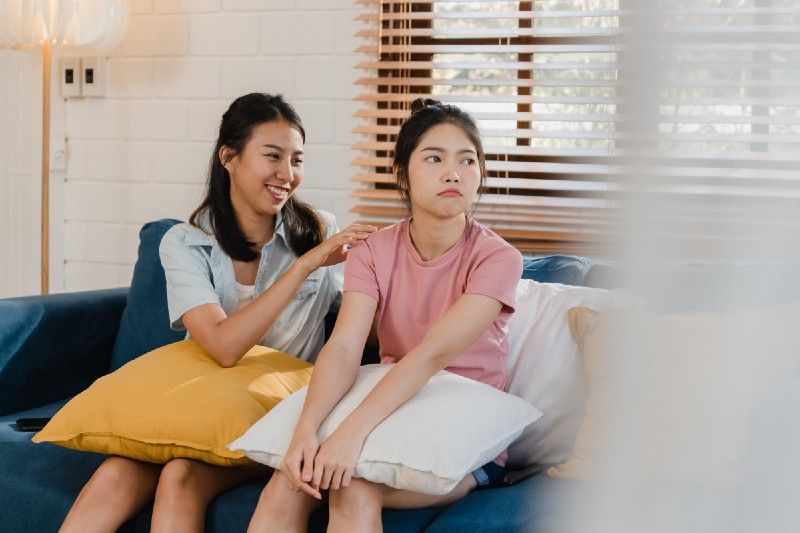 As co-living allows us to meet diverse groups of people and celebrate the different cultures, it should be an opportunity to broaden your horizons. Cove provides the comfy spaces together with hassle-free services and property management, but creating an awesome Covemate environment will be your responsibility!
However, if you are concerned that an individual has infringed upon the Cove house rules, please inform the Cove operations team as soon as possible.
Terms of lease
What is the minimum rental period?
Here at Cove, the minimum contract term is 3 months, which is in line with local URA regulations. However, we also offer fixated term rentals for 6, 12 and 18 months. These will come with preferential rates as well.
Will a longer lease benefit from lower rent?
Absolutely! We offer preferential rates for those who wish to sign on for 12 months or 18 months.
Cove is here for you
Cove's mission to put our Coveys first is only made possible by taking care of all the necessary arrangements and making sure your stay with us is as awesome as we hope it will be in Singapore.
Contact us today, and prepare to experience a new kind of living!
Drop us a WhatsApp message at +65 3138 4860 for enquiries.