Co-living and traditional home rentals, what are the differences?
Instant community and flexible renting are a few perks of co-living with Cove!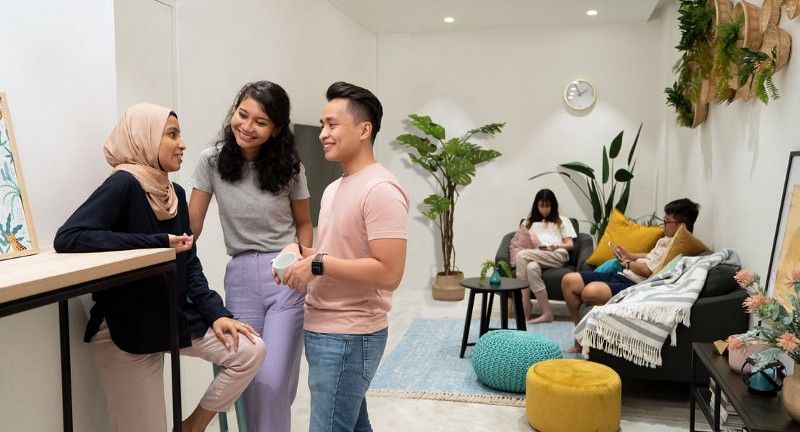 Between co-living and traditional house rental, you must be wondering what are the differences and which one you should consider when looking for a space to call home.
You might also have a perception that these two services are rather similar but after reading this post, I'm sure you'll have better insight regarding co-living!
Finding new tenants
One of the few things many traditional house rental tenants lament about frequently is how they have to quickly find replacement tenants when their current co-tenants decide to move out.
This is so that they can still pay their monthly rent at a fixed price without having to fluctuate the price to compensate for the vacant room. As such, the landlord may or may not impose this responsibility on them to find a new tenant as soon as possible.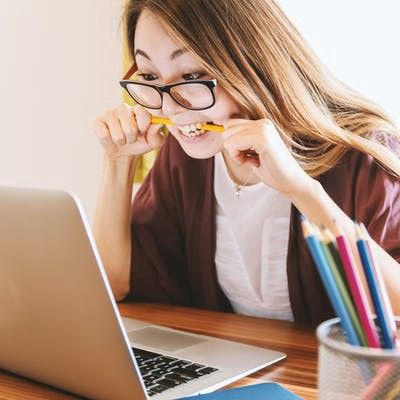 This does not only mean that you're at the risk of losing more money in the months to come if no new tenants wish to rent out the empty room, you'll also be losing precious time finding new replacement tenants instead of spending time doing the things you love! 😔
Thankfully at Cove, our bookings team is already on that! If a fellow Covey has moved into another Cove apartment or has ended their tenancy, you don't have to worry about finding a replacement.
You don't even have to worry about being charged an additional amount to compensate for the empty room, your invoice will still be the same no matter if the rooms are empty or not.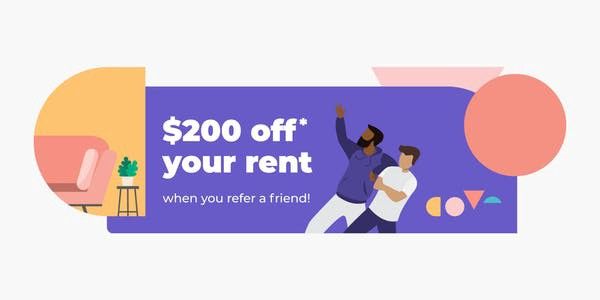 But of course, if you know any family members or friends who are looking for a place in Singapore, do introduce them to Cove. If they book a room with us, you'll receive $200 off* your next invoice! 🤑
T&C: referral is only applicable to new tenants who have not stayed with Cove before
Flexible rental
Looking for something short-term? Cove has that for you! The minimum stay that you have to commit with us is only 3 months short. It's suitable for expatriates who are working in Singapore for a short period of time or maybe if you wish to try co-living for the first time.
Sadly for traditional rental, it is compulsory to rent for a minimum period of 6 months if you're looking at renting an HDB unit. 6 months is a little too long, don't you think? If you don't like your new place, you'll have to commit for another 5 months!
If you stay with Cove, you can move into a new environment after fulfilling the minimum 3 months stay in your current home. In fact, we'll prioritise current Coveys who are looking for new homes too!
Is your room empty or fully furnished?
One thing you need to take note of when renting a room is, is it fully furnished? This is because you don't want to find yourself spending more than you can afford just to ensure your room is in a liveable condition.
A traditional rental space may have basic furniture such as a bed, wardrobe and a dining set at the dining area.
But at Cove, we go the extra mile! We even provide a desk in your own room since many of us are still working from home now. In the kitchen, you can find pots and pans, cutleries and all the kitchenware you need to cook.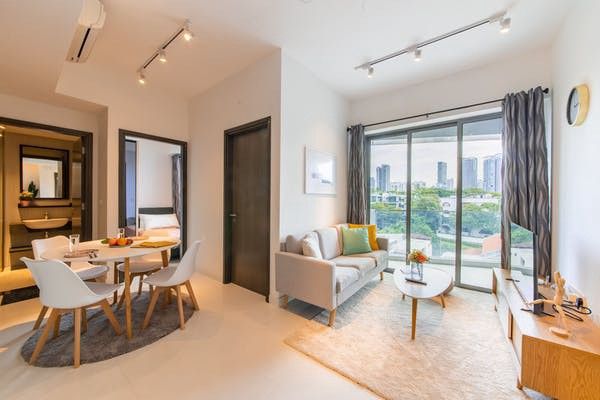 There's also a smart TV where you can enjoy the latest Netflix or Disney+ series in the living room. A traditional rental living room probably will just have a TV with free-to-air channels only.
Expect to move into a comfy and welcoming home on the first day with Cove!
Wi-fi and aircon included
Since you can access your favourite streaming services on the smart TV in the living area, that means we do include high-speed wifi too. This may not be the case for traditional rental as the landlord probably might charge you an extra cost for wi-fi usage.
So do keep a lookout for hidden costs when engaging with dodgy landlords! You don't want to be paying more than what was agreed upon right?
Fortunately at Cove, we include both wifi and A/C system in your monthly bill!
Freedom!
One of the reasons why traditional rentals may not provide kitchenware is that they're trying to restrict you from using the kitchen. Without the pots and pans, you won't be able to cook up a meal, right?
But at Cove, you're free to do almost anything. There's kitchenware for you to cook, just make sure you clean up after yourself so that your flatmates can use the kitchen too.
Feel free to host parties (not more than 8 guests, please!) in the dining area or the living room for your friends and family. Not to forget the balcony, a nice spot for drinks under the stars!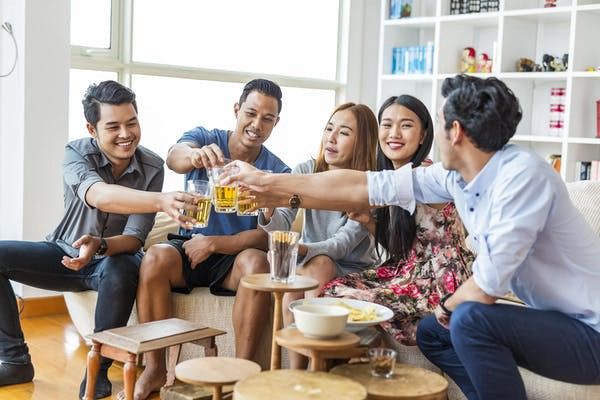 If you're living in a condominium unit with a BBQ pit and a pool, you can have the party there too! On top of that, you can even bring a friend to a sleepover for a night or two.
This is a privilege that most Coveys enjoy that will make traditional rental tenants envy as their landlords may not allow them to do so.
Instant community
The most common bad experience we've heard from people who underwent traditional house rentals before is that some of them had to live with the landlord and that makes things very awkward.
The landlord is at home most of the time, and if they can't get along with each other very well, tension might rise between them.
Luckily for Coveys, they'll be able to make new friends and meet like-minded people at Cove! Most of our Coveys do have get togethers at their own homes to party or have fun with each other. They may have started as flatmates at first, but eventually they became friends!
You can also meet new Coveys who may not live in the same unit as you through our community events that we have frequently or throught our Cove app!
You'll definitely feel belonged when you're with Cove.
There's also Covey perks which you can enjoy where you'll get exclusive deals!
Keeping it clean
Imagine having to spend time cleaning the home weekly to maintain the cleanliness of the home. Well, that will probably be a reality for you if you decided to choose traditional home rentals.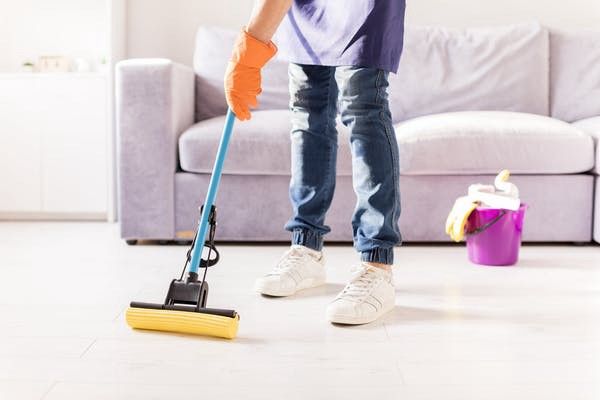 At Cove, we provide regular housekeeping at no extra cost, where the cleaning lady would come to clean the common areas such as the living room, kitchen and dining area. If you wish to have your room to be cleaned by them, we can do that for you at a small additional fee.
This way, you don't really have to worry about cleaning as it's well taken care of so that you'll have more time doing more important things!
If you're too busy to do your weekly laundry, we recommend Laundryheap as they will take care of your laundry and dry cleaning for you! Pick-up and delivery are free and you'll get your laundry back within 24 hours.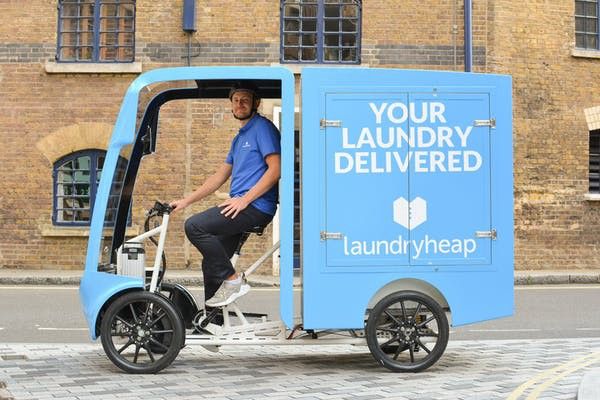 And exclusively for fellow Coveys, remember to quote "COVE10" to enjoy a 10% off* your first order with Laundryheap!
*T&C: only for first time order, promo code is valid once per user

Complete your stay experience with us
Cove homes have all you need, but what about what you want?
Whether it's a rice cooker, mini fridge or air purifier, we can deliver it to you within a week. Not only that, you'll only need to pay a small amount monthly for these premium items.
This is certainly a feature that traditional home rentals landlords are not offering at the moment!
You can also purchase several add-ons such as hangers, towels or bedsheets from us which you'll receive on the same day as the day you move in with us. Talk about convenience!
We hope this article will give you a better perspective regarding co-living. Be sure to check out our available homes on our website and we hope to hear from you soon!
Choose Cove, so you can love where you live!
Remember to join our Telegram channel to be updated on events, deals, new homes and more!