Around the world in 8 food places
Time to awaken your tantalising tastebuds with these different foods from every corner of the world!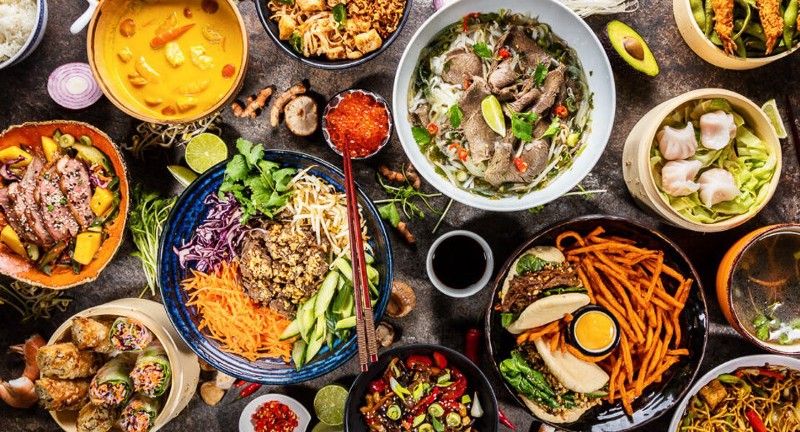 We may not be physically travelling to other parts of the world due to the border restrictions, but that doesn't mean we aren't able to taste the joy of being on a holiday.
In this article, I will be bringing you around the world in 8 eateries! 🌎
For those of you whose taste buds are not so adventurous, this is the chance to start something new. Challenge yourself and try out new cuisines which you've never heard of before.
French Fold
Specialising in French gallates and crepes, this Instagram-worthy restaurant nestled in the shophouses at Telok Ayer is worth the travelling for!
Most of us may be accustomed to eating sweet crepes for dessert (which they also serve), but the real deal that you should try at French Fold is the savoury galettes!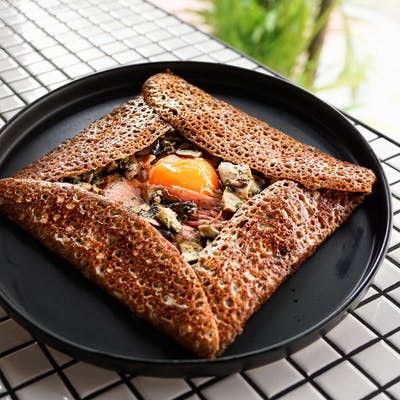 The ambience of this restaurant is indeed very chic, a perfect place to impress your date, so why not bring them here
address: 204 Telok Ayer St, Singapore 068640
opening hours: 8.00am — 10.30pm
Gravy Restaurant & Bar
Indian food is not foreign to most of us. Food such as prata, murtabak, biryani, naan and many more are readily available everywhere in Singapore.
But what's unique about Gravy Restaurant & Bar is that they serve exotic fusion Indian dishes like mutton handi gravy, samosa chaat, fish malvani and many more which you can pair up with alcoholic drinks!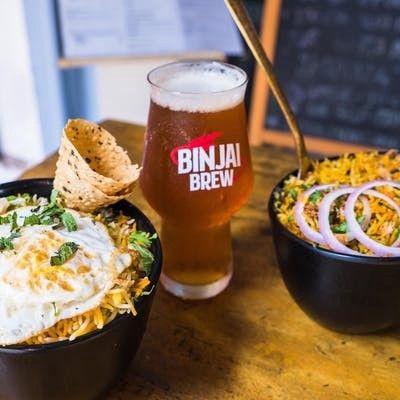 And exclusively for fellow Coveys, you'll get 20% off* when you sign up for their events by calling or WhatsApp them at 9101 5824. Just quote "Cove" when you're making the booking.
Not only that, you can also get 1-for-1 drinks* at their Tanjong Katong and Tanjong Pagar outlets when you flash your Cove tenant app on selected days, from 5pm till 7pm!
*Terms & conditions apply. 1-for-1 promotion is available at Tanjong Pagar outlet from Tuesday to Sunday & at Tanjong Katong outlet from Wednesday to Monday.

Tanjong Pagar
address: 1 Hoe Chiang Rd, Singapore 089310
opening hours: 11.30am — 10.00pm, closed on Mondays
Tanjong Katong
address: 246 Tanjong Katong Rd, Singapore 437034
opening hours: 11.30am — 10.00pm, closed on Tuesdays
Koh Nangkam
Located in a shophouse, this quaint Thai restaurant opposite Sultan Mosque will certainly remind you of the traditional eateries in Thailand!
Some of the must-haves at Koh Nangkam are steamed sea bass, pandan chicken and clear tom yum soup, to name a few. And what's a visit to a Thai restaurant without ordering a glass of refreshing Thai Milk Tea, right?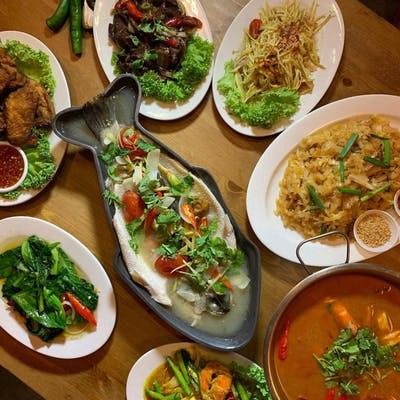 This halal Southern-Thai restaurant also does delivery on the weekend so you can easily order from them for your gatherings with friends!
address: 4 & 6 Jln Kledek, Singapore 199621
opening hours: 11.30am — 9.30pm, closed on Tuesdays
Don Don Donki
If you miss Japanese food, drinks and snacks, Don Don Donki is the place you should head to!
Instant bento, soba, sashimi, cute Japanese snacks, drinks, desserts, you name it! Everything is in a giant store! 🍱
With eight outlets island-wide, namely at JEM, JCube, City Square Mall, 100am, Orchard Central, Square 2, Clarke Quay Central and Harbourfront Centre, your nearest Don Don Donki is just a few minutes away! I can promise you that you'll never walk empty-handed from this huge supermarket even when you walked in with just the intention of 'looking around'! 🤣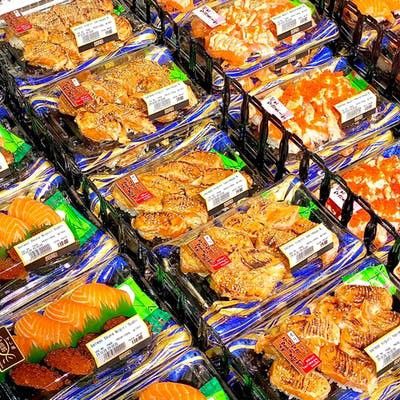 It's so good that even a Japanese YouTuber who is residing in Singapore, Ghib Ojisan, recommends it!
Visit Don Don Donki's website for all eight outlets' address and opening hours!
Kafe Utu
Opened in January 2019, Kafe Utu is Singapore's original African cafe with food from the different countries in Africa. Even before tasting the unique flavours of Africa, your eyes probably would have feasted on the intricate interior and decoration of this 3-storey cafe!
On the first floor, you'll be sure to spot the 8-metre banquette seat. Fun fact: it's made from a single tree! 🌳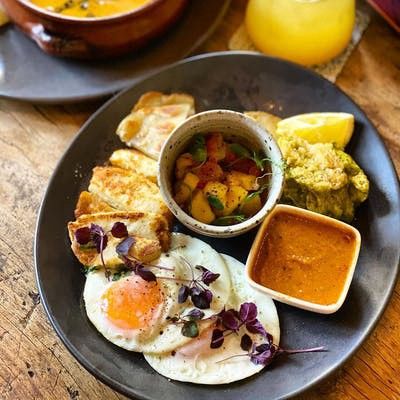 If you're looking for a new spot to drink, head over to their bar & terrace for an African cocktail experience!
address: 12 Jiak Chuan Rd, Singapore 089265
opening hours: Wednesday — Friday: 10.00am — 5.00pm, 6.00pm — 10.30pm
Saturday — Sunday: 9.00am — 5.00pm, 6.00pm — 10.30pm
Closed on Mondays and Tuesdays
Pano Kato Grill, Pizza & Deli
Craving for Mediterranean food? We suggest you head over to Pano Kato for some Mediterranean and Greek food!
This restaurant is perfect for you if adhere to strict dietary preferences such as gluten-free or vegan!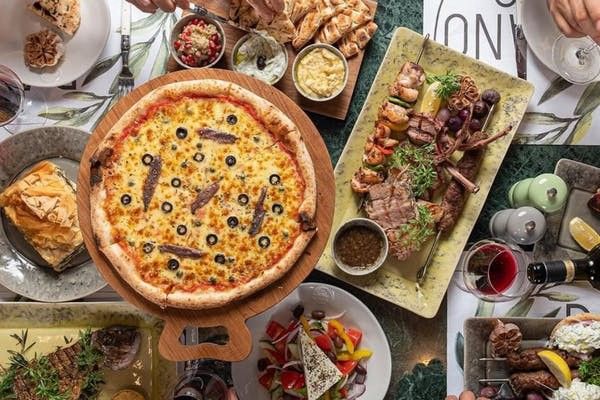 According to their website, Pano Kato means 'upstairs downstairs' in Greek, referring to its sister restaurant, AnLi's Store and Bistro located upper floor while Pano Kato is just below!
When you're done with your delicious spanakopita, Maria's moussaka or baklava, visit the retail store that's linked to the restaurant where you can find decor items that are being used in the restaurant!
address: 163, #02–23 Tanglin Rd, Tanglin Mall, 247933
opening hours: 11.00am — 10.00pm, daily
I'm Kim Korean BBQ
Nobody can resist a good BBQ, right! 🍖
Not only is I'm Kim Korean BBQ is affordable, but their signature volcano chicken is also to die for! Other menus include signature Korean chicken wings and spicy pork collar!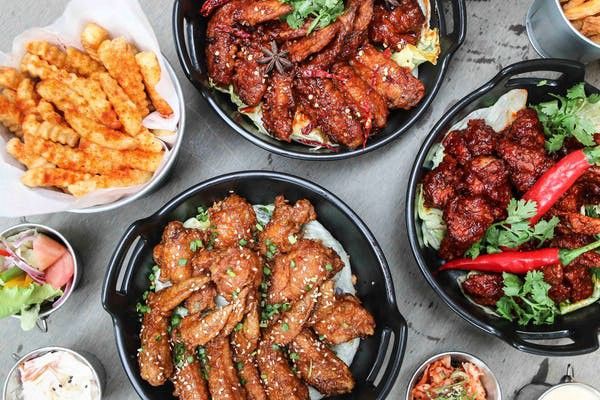 Only 5 minutes away from Dhoby Ghaut MRT, this restaurant which is located at School of The Arts (SOTA), is hard to miss with its huge bright signage.
Remember to make your reservations earlier to avoid disappointment! And to our Muslim friends, don't worry. You can always visit their halal restaurant called Captain Kim Korean BBQ & Hotpot located in the East!
I'm Kim Korean BBQ
address: 1 Zubir Said Drive #01–04 School of The Arts, 227968
opening hours: Monday — Friday, 11.30am — 4.30pm & 5.30–10.30pm
Saturday & Sunday, 11.30am — 10.30pm
Captain Kim Korean BBQ & Hotpot
address: 300 Tampines Ave 5, #01–06 NTUC Income Tampines Junction, Singapore 529653
opening hours: Monday — Friday, 11.30am — 3.30pm & 5.30–10.30pm
Saturday & Sunday, 11.30am — 10.30pm
Bara Food
We've all heard grilled chicken, grilled fish and even grilled vegetables before, but what about grilled… rice?
Yes, that sounds a little strange but I can ensure you that once you've tasted it, you'll want to revisit again!
Bara Food serves its authentic Indonesian dishes with rice that has been wrapped in banana leaf, grilled till perfection.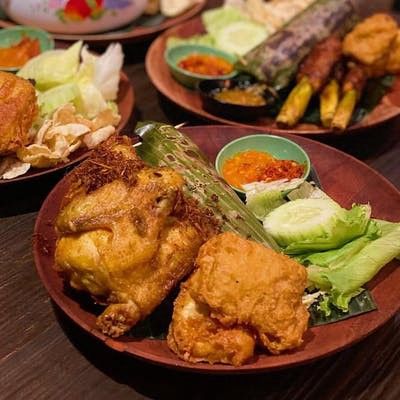 My personal favourite is the Ayam Goreng Serundeng — Javanese style fried chicken topped with 'Serundeng', mixed fried Indonesian herbs and spices!
For those of you working in the CBD area, do drop by this restaurant located few minutes away from Tanjong Pagar MRT!
address: 16 Enggor St, 01–10, Singapore 079717
opening hours: Tuesday — Sunday, 11.00am — 8.00pm
Monday, 11.00am — 4.00pm
I hope that these recommendations have helped those who miss traveling and trying out new food. For those who miss the taste of home, did these foods remind you of home?
Talking of home, do you know that you can now easily send money back home with WorldRemit?
You can send up to 70 currencies to 130 countries! WorldRemit has one of the best exchange rates up front, with no hidden costs! You can even transfer money right from your smartphone. Convenient, isn't it?
Now that I've shared with you many different cuisines from around the world, it's time for you to take that leap of faith and try out new delicacies to expand your palette! Have fun tasting these yummy foods and remember to take lots of photos!